Southern Oak is more than just an insurance company. We are deeply committed to the well-being of our policyholders, we see fire safety as very important to everyone in our communities. It serves as a reminder of the devastating impact that fires can have on homes, businesses, and communities. The Red Cross responds to 27% more fires November – March than any other time of the year. So, let's turn our attention to proactive measures that can be taken to mitigate risks and enhance safety protocols.
Understanding the Risk
Fires can start in an instant but leave a trail of destruction that lasts much longer. According to the National Fire Protection Association (NFPA), a fire department in the United States responds to a fire every 23 seconds. These incidents range from minor to catastrophic, with residential fires accounting for the majority of fire-related deaths and injuries.As insurers, we witness first-hand the aftermath of these tragic events and are dedicated to helping prevent them through education and support.
Prevention: The First Line of Defense
Prevention is at the heart of fire safety. It starts with the understanding that most fires are preventable, and there are simple steps everyone can take to reduce their risk:
Smoke Alarms:
Ensure that smoke alarms are installed on every level of your home, inside bedrooms, and outside sleeping areas. Test them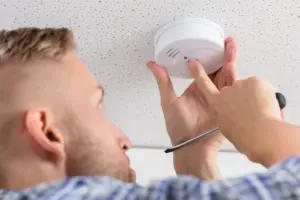 monthly, replace batteries at least once a year, and the alarms themselves every ten years.
Heating Equipment:
Dust and other materials can build up over the Florida summer. Have heating systems serviced annually by a qualified technician. Keep flammable items at least three feet away from things like fireplaces, outdoor patio fire tables  or portable space heates
Electrical Safety:
Have your home electrical systems regularly inspected by a qualified professional. Avoid overloading outlets and use surge protectors where necessary.
Cooking Awareness:
Stay in the kitchen while you are frying, boiling, grilling, or broiling food. Turn off the stove if you leave the kitchen, even for a short period.
Planning: A Blueprint for Safety:
A smart fire escape plan is a must for every household. Map your home's layout, clearly marking all possible escape routes, and keep windows and doors unobstructed. Establish a meeting point outside the house a safe distance from danger. Have a family fire drill to ensure that everyone knows what to do in an emergency. The NFPA provides helpful resources for you and your family.
First Aid & Community Programs:
Participate in local fire department activities. Many fire stations offer workshops on how to properly use a fire extinguisher, basic first aid, and CPR.
Insurance: Your Safety Net
Prioritize prevention and planning, and at the same time, actively select the right insurance company and secure the appropriate coverage for a dependable safety net. Then, consistently review your policy to ensure it reflects your current needs. Next, clarify and confirm the details of your coverage for fire-related incidents. Also, take charge by regularly updating a record of your possessions to ease any future claims processes. This action is vital as it significantly smooths out the claims process if necessary.
Innovation: Embracing New Technology
Advancements in technology continue to offer new ways to prevent and detect fires. Smart home devices, like connected smoke detectors and automatic shutoff systems, provide an added layer of protection. Many insurance companies offer discounts for the use of smart fire detection.
It's easy to get busy around the holidays and get complacent. Now is the time to learn and implement the strategies that can save lives and properties. As your insurance partner, we are here to help you understand the risks and take action to protect yourself, your loved ones, and your possessions. Act today to prepare for tomorrow.. Contact your Southern Oak Insurance independent agency partner to review your policy now.