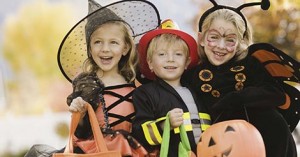 Halloween is one of the most anticipated holidays of the year for kids. Dressing up, being outside with friends, family and tons of candy are enough to make any kid boil over with excitement. Keeping family safety in mind ahead of time can help produce a safe and memorable holiday for everyone. Here are 5 important tips to consider:
1. Costume Safety – The first thing that comes to mind when thinking about Halloween is the costume. A simple rule is to SEE and BE SEEN! For trick-or-treating purposes, brightly colored costumes that are not bulky and don't require a mask are the safest and the most practical. Be sure your child has clear vision to see any possible traffic or trip hazards. Consider adding some reflective tape to your child's costume, shoes or trick or treat bag.
2. Traffic Safety – Children need to understand basic traffic safety. Even when out with a parent or chaperone, excited kids tend to run, trip, and not think about anything except getting to the next house for more candy. A quick review of pedestrian traffic rules may help to keep that information fresh in their minds. Lights and reflectors or glow sticks to carry, wear, or stick to the costume can help keep children visible.
3. Treat Safety – Be sure your kids know to wait until they get home before they dive into that big bag of sweet loot! Take a minute to sort through and inspect everything. Tampering is rare, but make sure the wrapper or packaging is in tact. Also take a look expiration dates on larger treats to be sure nothing has gone bad that might make your little one sick.
4. General Personal Safety – Never let kids (even teens) go out alone. A group is a safe and fun way to trick-or-treat. Older children should have a phone and emergency contact information with them. They should stay together and stay within a specified area. It is also a good important to have a designated time to return. When other trick-or-treaters start to thin out on the streets, it is probably time to go inside and check out what candy you have!
5. Homeowner Safety – If you stay home because you enjoy handing out candy to all your neighborhood ghosts and goblins, you also want to do your part to keep them safe. Make sure your walkways and porches are well lit and free of any debris. Your homeowner's insurance policy should protect you from any unforeseen accidents. You can read more tips on homeowner halloween safety here
Here at Southern Oak Insurance we want to make sure our policyholders know we are all about your safety. October is Fire Prevention Month and the National Fire Prevention Association has a lot of good information you can use to educate yourself and your family here. You can also click the image below to get our free Family Fire Escape Plan to get prepared today!