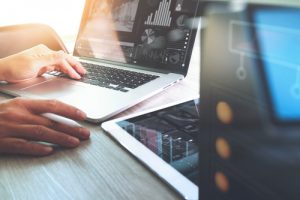 As an insurance agent, it is important to stay visible and engaged with your customers. One of the ways you can do this is by having an up-to-date website for your insurance agency that allows customers to find what they want, provide additional information, and gives them a reason to return. The best way to do this is by improving your SEO.
What is SEO?
SEO, or search engine optimization, is getting natural traffic search results. This happens by using different techniques that will increase the amount of visitors to your site, which comes from getting a high placement in the search results on the web.
Here are a few ways you can improve your SEO:
Headlines
Using a good headline that grabs attention is key. Make sure it has the main keyword or phrase you want customers to find when they are searching the web. If you're writing a blog about home insurance, it should be in the headline. Something like "Finding the best rates for home insurance" would go over well if your keyword is "home insurance."
ALT tags on images
It is important to use good images to help tell your story. Giving information on your images can also help drive traffic to your site. Alt tags are short pieces of text that help find your content.
Keyword-rich title tags and meta descriptions
Naming your page will lead customers straight to you. That's why it's important to have a title tag. Those are 75 of the most important characters you can use. The meta description will show up in the search engines between the tag and URL. Make sure you also use keywords.
Publishing Relevant Content
Putting out content in blogs, social media posts, and more is a great way to draw people to your site- just make sure it's relevant to you. Posting a blog on home design when you work for an insurance agency, for example, isn't going to get you anywhere. Instead, choose topics like home or flood insurance.
Outbound Links
When creating a website, outbound links (links to other sites) will increase the legitimacy of your site, and push it closer to the top of search results. However, using too many may cause your site to become too spammy- so keep them at a happy medium.
Header Tags
On your website, every page should have a header tag- Search engines recognize the copy in your header tags as more important than the rest. Without one, each page is virtually impossible for search engines to tell apart from the other pages on your site. Having header tags will make each page searchable, and will show the overall message of each page- which is exactly what you want when sharing your content.
Using these techniques will help improve your insurance agency's ranking in the search engines and help gain brand equity. Focus on these tips and your customers will start trickling in.
After optimizing your site, you may want to learn to connect with clients and potential clients.  Click below to read our eBook and find out you can generate more sales using social media.