Springtime in Florida means it's time for home improvement for some, new home shopping for others and early preparation for hurricane season for everyone. When it comes to gaining new customers, nothing makes a better impression than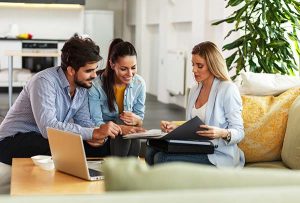 personal relationships. Offering current policyholders and potential new customers tips for this time of year can greatly improve your lead generation. According to a Nielsen study, 70% of consumers trust online reviews more than any other form of marketing. Agencies that stay connected with their customers typically garner more positive reviews than those that are out of the loop. Technology has put multiple tools right at the fingertips of today's independent insurance agents, so it's easier than ever. Consider these 5 ways to stay connected with established and potential customers online.
Social Media Sites
Even the least tech savvy internet users are likely to spend quite a bit of time social networks with their friends and family. According to a Pew Research Center study, almost three-quarters of people who use the internet also use social media.
Reviews on local directories like Google, Yelp, or Facebook can dramatically increase an agency's volume of online leads. Also, sharing your customers' positive reviews on your site will show potential customers that you are good at what you do, and that they can trust you.
Regular Email Campaigns
Email is personal way to keep in touch with your customers. It works best when it is personalized and relevant to the reader. Emails to your customers can cover anything from temporary changes in operating hours, helpful reminders, relevant tips, birthdays, anniversary's and more. However, this doesn't mean you need to stuff people's inboxes with messages every day. Keeping your emails are timely and relevant to the reader will help ensure your message is opened.
Pro Tip: Be sure your email subject line is eye-catching and relevant to help it stand apart in a person's inbox.
It's a good idea to sit down and create a communication plan for policyholders with your team. What type of emails will you send, how often will you send these and how will you measure whether people are receiving and reading your messages? Placing a CTA "Call To Action" in emails from time to time is also an effective way to gauge the effectiveness of your email communication.
Blogging
Blogs are great additions to insurance agency websites. You can offer readers dynamic, relevant tips and information in a very approachable way. Providing your site visitors with helpful articles on a regular basis will help keep them coming back for more, building trust with your brand and sharing good information with their friends. Check out the Southern Oak Policyholder blog for examples of engaging and informative topics.
Participate in Relevant Community Forums
Local agents can position themselves as a friendly and helpful member of a community where you are likely to find prospective customers. For example, agents might search for local message boards that are related to their own area or field of expertise. In the professional networking realm, insurance agents can join online groups of realtors, mortgage professionals, builders and more to offer insight on changing insurance rates, policies, etc. Similarly, agents can often find local community groups on Facebook to share helpful information about storm season preparation, seasonal maintenance tips and other relevant topics.
Watch Internet Etiquette
Agencies have to be wary of how they present themselves on the internet and try to turn even negative situations into positive ones.
Running a Florida homeowners insurance agency is a big challenge on many levels. However, connecting online can provide a great source of Florida homeowners insurance leads, branding, and reputation enhancement.
Why are more independent insurance agents writing Southern Oak policies than ever? Our team is here to help answer questions, provide resources, and help excel agent careers. Click the button below to request an appointment, and become a part of the Southern Oak team!