About half of consumers have an up-to-date Home Inventory, according to the Insurance Information Institute.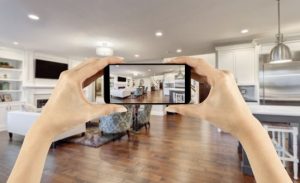 As we try to flatten the curve, the Coronavirus has most of us spending much more time at home so lots of people are organizing their spaces.  This is a perfect time to create an up-to-date list of your Home Inventory.  The following tips can be helpful to start or modify your documentation:
Choose a format that is easy to use
Technology can make this easier.  There are many formats that have been created to help make your documentation process easier-Microsoft Excel, Pinterest, Google and Mobile Apps for both Android and iOS devices all have formatted inventory checklists and most even have free downloadable templates and worksheets with the ability to add pictures.  It is also ok to simply type up a list and organize it room by room.  Even better, download a copy of our free Home Inventory Checklist.
Begin documenting room by room
A few photos or videos of each room are a good start and most people forget the attic, storage units, and the basement.  Since you have the time, it is also good to include the contents in your drawers and closets.  Details are very helpful when it comes to expensive items.  Be sure to include the date of purchase, serial number and/or model numbers, description of the items, appraisals, estimated value of item(s) and best practice is always to save receipts for proof of purchase.  Smartphones are great options for you to take video and/or photos of belongings since it will time and date stamp automatically.
Things to include on my Home Inventory checklist
It is best to record every valuable.  Electronics, jewelry, major appliances, firearms, tools, antiques, furniture, art collections, collectibles, rugs and if you enjoy the finer things in life; you might want to look at some of your couture, liquor cabinets, and wine cellars.  If you are using video, you can narrate by describing details of items and zooming in on important details.  When taking photos make sure to capture each item separately. You can group smaller less expensive items together.  For example, shoes and clothing or your great grandma's china plates and silverware.  If you have expensive possessions valued over $2,000, this may require larger coverage.
Storing your Home Inventory
No one ever plans to have a fire, flood or robbery in their home, but if this worst-case scenario happens to your family, it is important that your Home Inventory documentation is safe.  Mobile apps, or web and cloud-based versions of these checklist templates can help you remotely save your information for the future.  If you use a smartphone to record your valuables, you can upload and back it up to the cloud.  As for your list, Google Docs or Dropbox are good storage options or you can save on an external drive or email to yourself.  If you are not tech-savvy, protect your information by making triplicate copies of your Home Inventory, all the receipts, and pictures and store it somewhere outside of your home, like your office and a friend or relative's house as well.
When you're looking for home insurance, contact Southern Oak. We'll help you prepare so that you know that your home is protected.  Get an instant quote here. You can also download this free Home Inventory Checklist by clicking the image below!