It goes without saying that June 1 has a special meaning to Floridians: the start of the Atlantic Hurricane Season. According to the  National Oceanic and Atmospheric Administration, it's shaping up to be "above average", with  11-17 named storms! Besides those 17 tropical storms and hurricanes, NOAA notes there will be many other storms that can cause significant damage, especially for those living in the coastal states like Florida.
When it comes to preparing for the upcoming months of unpredictable weather, there's no time like the present to make sure your home is ready to weather the storms. Here are three important steps to take now to make sure your property is protected:
Get your home in storm-ready shape
Simple steps like cleaning out your gutters and making sure water has a way to drain away from your home can help prevent water damage. Installing storm shutters or at least having a way to fasten plywood over your windows is also important. If you have a generator, now is the time to schedule a tune-up and make sure it's in good working order (and if you don't own a generator, now is the time to consider purchasing one.) Install bolts at the top and bottom of exterior doors to protect against winds, and consider installing roof straps to provide extra security and reduce the risk of damage. Finally, test your sump pump and clear away other drains to prevent water damage.
Tackle landscaping chores
Trim away branches that are hanging over or near your home, as well as any dead branches on trees and shrubs throughout your property. Hire a tree specialist to determine if any trees are ailing and need to be removed. Anchor small trees and shrubs to prevent uprooting. If you're putting in a new walkway, opt for mulch instead of gravel to reduce potential damage from wind-borne debris.
Review your home insurance  pool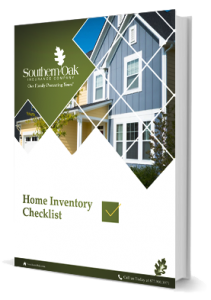 Homeowners insurance  can provide you with important financial protection as well as peace of mind, but just like your other hurricane-preparedness tasks, your policy needs to be reviewed from time to time to ensure it provides adequate home insurance coverage for your needs. Although standard policies do provide coverage for some nature-related events, they don't cover flood-related damage. That means if your home is damaged as a result of hurricane-related flooding, you may have to cover all those costs from your own savings. Reviewing your policy now before a storm hits is the best way to ensure you have the homeowners coverage you need to stay protected.
At Southern Oak, we're experienced in helping Florida homeowners find the home insurance they need to protect their property. It's our family protecting yours.
Take a step toward a better peace of mind and download our Home Inventory Checklist to be fully prepared for any disaster that might come your way.