AOBs have been available in the state of Florida for over 100 years. However, through the decades, many have found loopholes in the system, which have not only resulted in an increase in insurance costs for homeowners but also cases of fraud.
What is an AOB?
For those who aren't familiar with AOB, Assignment of Benefits (AOB) is an agreement between a homeowner and an insurance company. This agreement stipulates that all rights, benefits, and financial interest within a policy are transferred to a third party. The insurance company becomes responsible for making payments to the contracted third party for any repairs related to a claim.
An AOB scam occurs when a contractor or other third party claiming to be a professional contractor claiming approaches a homeowner and offers to inspect the home or property for damage or make repairs after a recent storm. The third party then gets the homeowner to sign an agreement to this effect, promising the homeowner to not only make the repairs but to also work with the homeowner's insurance company to handle the insurance paperwork. The third party then collects the insurance money without making the repairs, leaving the homeowner without repairs and without insurance money.
What is Being Done About AOB Scams?
According to the Florida Office of Insurance Regulation, there were 405 AOB lawsuits reported throughout the state of Florida in 2006. In 2016, the number of AOB fraud cases increased to 28,200. Not only is the increase devastating to communities, these reports also showed that cases have increased in severity and frequency. As a result, AOB scams have become a huge concern for both homeowners and Florida legislators.
The position of the Florida Office of Insurance Regulation is in favor of protecting consumers and is currently working to find a solution that puts an end to AOB scams. However, legislation sessions ended in May 2017 without determining a direct solution to the AOB crisis. This likely means that homeowners and consumers are vulnerable to AOB fraud and scams for another storm season.
How Southern Oak Insurance Can Help
At Southern Oak Insurance, we have seen a lot of people become victims of AOB scams. In an effort to keep our clients up-to-date on the latest AOB information, we go above and beyond to make ourselves available and to provide them with helpful res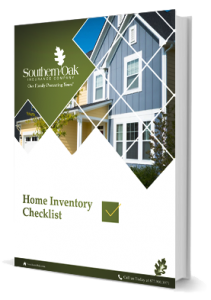 ources. We provide clients with a list of reputable contractors that clients can call when they need repairs after a storm. We want our clients to feel like they have a place to turn to for help and reliable information.
If you believe you have become a victim of an AOB scam or if you have general questions regarding AOB scams and fraud, contact a Southern Oak agent today.
If a storm were to hit, are all of your valuables accounted for? Our Home Inventory Checklist is designed to bring peace of mind in a stressful situation. Download it today by clicking the image, and be prepared in case of emergency!