Home insurance is a necessary expense that comes with owning a home. Homeowners insurance will cost the average person hundreds or even thousands of dollars per year. There are plenty of factors that contribute to the price you're paying – whether it be your furry friend living with you or having an alarm system.
Whether you're getting an insurance policy for your first home or renewing your current homeowners insurance policy, you may be able to substantially reduce your insurance rate by following a few simple guidelines.
How Can You Get Discounts?
Install a Monitored Alarm System
Installing a monitored alarm system is one of the first options you should consider. Not only is this important when it comes to protecting your family, but it can also reduce your home insurance premium. There are two types of monitored alarm systems that may give you a credit on your homeowners policy: centrally monitored fire alarm or a centrally monitored security system. The fire alarm reduces the risk of damage by smoke or fire while the security system can serve as a theft deterrent. When you reduce the possibility of fire damage or burglaries, it lowers your insurance risk when it comes to replacing your valuable possessions.
Get a Wind Mitigation Inspection
A wind mitigation inspection takes a look at the stability and storm resistance of your room. Getting a professional out for a one-time inspection is relatively inexpensive. A wind mitigation certificate shows your insurance carrier that your roof is in good shape and less prone to storm damage. This will typically reduce your home insurance costs.
What Factors Raise Your Homeowners Insurance Costs?
Pets
Owning aggressive dog breeds or exotic animals will typically raise your insurance rates or even prevent you from getting coverage at all.  Nobody wants to part with their family pet, but you should be aware of the increased costs. Try not to skimp on this necessary coverage or avoid reporting your pets to your insurance carrier. Damages may be much costlier if you don't have the proper coverage.
Credit Score
Your credit score may affect your rate. Take advantage of free resources to check your credit, and always keep that in mind when budgeting.
Trampolines
Although fun, having toys like this in your backyard does become a liability. Your kids probably understand safety, but accidents can happen, especially when there's more than one kid involved. This added risk will typically raise your rate and some insurance carriers won't provide coverage for trampolines.
Other Risk Factors
Pools, hurricane-prone location, age of your home, and other elements can raise your premium. Be sure to talk with your insurance agent about everything on your property if you are unsure about hidden costs, risk factors, and anything else that may give you trouble down the road.
What Else Can Lower Your Insurance Payments?
Raise Your Deductible
Your deductible is the amount you will pay out of pocket for an insurance claim before the insurance carrier pays their portion. Agreeing to pay a higher out-of-pocket cost when you file a claim will lower your insurance premium. By Florida law, insurance carriers must offer hurricane deductible options of $500, 2%, 5% and 10% of hurricane damage. You may also increase your "all other perils" deductible, which typically ranges from $500 to $5000 and applies to claims not related to hurricane damage. The higher the deductible you choose, the lower your insurance premium will be.
Coverage Limits
Changing the levels of coverage to replace your valuables in case of a loss will raise or lower your overall insurance premium. Reducing the amount of coverage you have on the contents of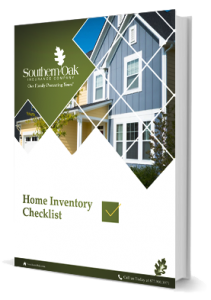 your home will lower your insurance premium, but you will not get as much money to replace items. Changing your coverage limits is a personal decision and you should talk with your insurance agent first to understand how the changes will affect you.
It's also a good idea to take inventory of the contents of your home that you want to cover. It's best to do this after the holiday season after all of the gifts are unwrapped and put away. You may need to adjust your coverage for items such as jewelry, electronics, and anything else with high value. Download our Home Inventory Checklist, a free resource used to help keep track of your valuables. Click the image to get your copy, and always keep it on file.
Make Your Home More Resistant
Find other factors that might make your house less susceptible to storm damage, fire or other hazards. Consider modernizing your heating, plumbing, and electrical systems to reduce the risk of fire or water damage. You can reinforce your roof, install storm shutters or replace outdated windows to minimize storm damage. Always ask your insurance agent if you have any questions, and avoid any extra fees down the road.
Insurance costs and guidelines may not make complete sense to you, and that's okay. Your insurance agent should be able to help answer your questions and guide you through the process of making any changes. Changing your coverage limits or making home repairs are things that you should ask your agent about ahead of time, so that you understand the effect it will have on your insurance costs.
If you want to be sure you're asking your agent the right questions, and be prepared for anything that may come your way. Download our 10 Questions to Ask Your Agent eBook, and get the most out of your meeting time.