It happens all too often. A vicious storm wipes through the region, causing damage to trees, vehicles, and homes. Maybe you were one of the victims, or maybe you were one of the lucky ones. A day or two following the storm, your family was approached by an individual offering to inspect your roof, replace the crack in your windshield or trim the tree in your front yard – for FREE. The individual holds out a form asking you to sign, promising to work with your insurance company so you don't have to worry about a thing. Without giving it much more thought, you sign the form. You just became a victim of AOB fraud.
AOB scams like this happen every day, especially in climates that are subject to severe weather and frequent storms, such as Florida. The fact is becoming a victim of an AOB scam can end up costing families more than what they realize. Storm season is here, so taking certain precautions now can save you time and money down the road.
These tips can help you not only prepare for the upcoming storm season, but to also prevent an AOB scam.
What is an AOB?
Assignment of Benefits (AOB) is an agreement between a homeowner and an insurance company, which stipulates the transfer of rights, benefits, and financial interest to a third party. The insurance company is then responsible for making payments to the contracted third party for any repairs related to a claim. Although this agreement takes the pressure off the homeowner to deal with a contractor and the insurance company in the event of a claim, the homeowner also loses the ability to work with the insurance company.
AOB fraud occurs when a contractor or other third party approaches an individual or family claiming to be affiliated with the homeowner's insurance company, and gets the homeowner to sign an agreement promising to make repairs to a property and to handle the insurance paperwork. The third party then collects the insurance money and takes off, leaving the homeowner stranded – without repairs or insurance money.
Storm Preparation to Avoid Scams
The good news is there are some things homeowners can do to prevent AOB scams. So, the next time there is severe weather in the forecast, here are some things you can do to not only protect your home, property, and vehicle from damage, but also to protect your family from an AOB scam.
Gather paperwork on previous repairs
Walk around the outside of your home and property and take pictures to assess current conditions before a storm
Re-assess your home and property after a storm, taking pictures as necessary to determine if there is legitimate damage
Prepare a list of legitimate, credible third party contractors directly from your insurance company to call in the event repairs are needed
By taking the time to follow these steps before and after the next storm, homeowners will save themselves a great deal of time, money, and hassle by avoiding an AOB scam.
How Southern Oak Insurance Can Help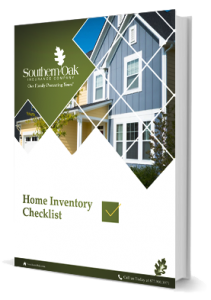 At Southern Oak Insurance, we have seen too many of our clients become victims of AOB scams. We want to arm our clients with sufficient information on AOB scams and how to also keep their homes and families safe, especially as storm season approaches.
If you believe you have become a victim of an AOB scam or if you have questions regarding storm preparation, contact your Southern Oak agent today.
If disaster were to strike, would all of your valuables be accounted for? Download our Home Inventory Checklist today, and take the guesswork out of your insurance claim.