Roofing fraud is alive and well, and some contractors might try and take your money and run. The situation you could find yourself in can seem legitimate, however, you need to be wary of a contractor claiming to take care of everything, including your insurance policy. These are specific warning signs you need to keep in mind when it comes to AOB fraud and roofers:
A contractor approaches your house, claiming to spot significant damage to your roof.
Most of the time, these roofers will show up on your doorstep after a major storm has blown through the neighborhood. While you may not be aware of any damage, the contractor's claim startles you.
They may convince you there are some repairs that need to be made, and the contractor may ask if you have a homeowners policy. They assure you that their company frequently performs insurance work.
You then allow the individual to perform an inspection and submit a repair bid. While the roofer may be perfectly legitimate, there's a chance that they are not. Be on the lookout for some red flags when the company returns with a proposal.
The roofer might offer to take care of all dealings with a claims adjuster, and tell you all you need to do is sign the contract and 'avoid the red tape'.  Scan that contract for any reference to an assignment of benefits.
Many homeowners have been ripped off through assigning benefits directly to roofing contractors. By transferring these rights, insurance companies will only deal with the contractor and not you. Many times, roofers pocket claims proceeds and never return to make repairs. Be aware of other signs of a scam, such as a contractor may be willing to perform work on parts of your home that have no damage. They may ask you to sign on the spot so that work can begin immediately.
If you suspect something doesn't feel right, take the necessary steps to avoid being swindled. Here's what to do if you find yourself in a similar situation:
Read the whole contract carefully.
Keep an eye out for any reference to an assignment of benefits.
Don't give in to pressure tactics.
Find another contractor to inspect the roof and assess the situation. If you need a list of reputable roofers, call your Southern Oak agent. We maintain lists of contractors with solid
reputations.
Most importantly, do not allow any repairs to begin before having us inspect the damage. Once you involve your agent, their presence may scare off any party with malicious intent.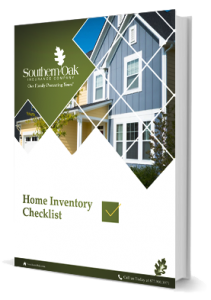 Always call your agent before signing any agreements, and don't take any warning signs lightly. Assignment of Benefits fraud is on the rise, especially with Florida homeowners, and we want to make sure you're protected in the event that it does happen. Check out this article by the Florida Office of Insurance Regulation to stay up-to-date on current AOB Legislation!
In the event a disaster were to happen, are all of your valuables accounted for? Download our Home Inventory Checklist, and keep your belongings safe. Click the image to get your free copy!